Swifto's GPS tracks dog walkers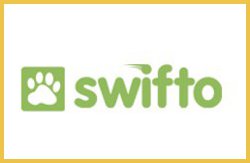 Swifto is a new dog walking broker, matching dog owners with pre-screened dog walkers.
The Israeli-founded firm's key proposition is a GPS tracker, which lets owners monitor dogs' location during walks. The monitoring GPS plays on dog owners' fears of whether the dog walks actually take place.
Swifto boasts of its stable of dog walkers: they must pass three interviews, be college-educated, experienced with dogs, and willing to walk single dogs, one at a time.
A 30 minute walk costs $20, split between Swifto's 40% commission and the dog walker's $12.
According to the CEO, its "goal is to use technology to change and disrupt the landscape of conventional pet services," targeting "large metropolitan areas with dense concentrations of dog owners with high disposable income."
Swifto raised a $2.5 million investment from Benchmark Capital and granted a seat on its board of directors to Benchmark partner Michael Eisenberg, who oversees other Israeli start-ups. Swifto expects to reach $1 million in revenue from NYC in 2013, equivalent to about 500 clients demanding 30-minute walks ever weekday.
For more, click to an interview with Swifto's CEO or to the latest Swifto press release.
With this in mind, I would like to ask some questions of dog walkers:
Do you feel your clients worry whether the walks are taking place?
Do you text pictures of clients' dogs to prove walks are taking place?
Do you feel that the GPS tracker sort of criminalizes dog walkers?
Would you work for Swifto, walking one dog at a time?
Have you used DogiDuty app or similar to log your dog walks?
Click on the Swifto survey to answer these yes/no questions and add any thoughts. Click for responses to survey.
Update April 22, 2014: Employees speak up about Swifto at Glassdoor. The Better Business Bureau indicates that Swifto is not accredited.
Update April 29, 2014: Swifto's solicitation in Craigslist for dog walkers asks for a six-month commitment to the hours of 11am - 3pm. Would Swifto release from this commitment an otherwise unemployed dog walker who finds a better job offer elsewhere? On its part, Swifto is committed to hiring in an automated way, for its solicitation asks applicants: "Please use a computer ... to fill out the application. Please do not call, as it will automatically invalidate your application." It may just find some charitable help from students at Fordham University! What is certain is that these details are omitted from Swifto's explanation to clients of its hiring process.
---