Million dog march SF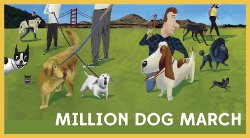 The Million Dog March is planned in McLaren Park on June 2, 2013 to raise awareness of the size of the Bay Area's dog walking community, and to claim its rights in "city parks, federal recreation areas and other public spaces."
The march will be three miles long, end in a festival with music, vendors, and games for dogs and their owners.
Organized by SFDOG and sponsored by Yelp, Zynga, and San Francisco Bay Guardian, it pushes for dog walking rights with responsibilities. According to Sally Stephens, a leader of the San Francisco Dog Owners Group, "We are for off-leash only when the dog is under control. If a dog chases a bird, jumps on people or digs in the park, then the owner should get a citation for it."
San Francisco has a dog population estimated at 150,000, exceeding its kid population and residing in the homes of some 800,000.
To register, go to the RegOnline.com's page; to discuss, go to the Facebook page.
Update June 7, 2013: Though much fun, the million dog march missed the record earlier set in Britain for numbers of dogs in a march.
---